F&M Bank
17th & Stone Streets • Falls City, NE 68355
United States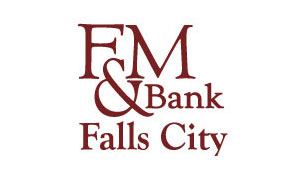 F&M Bank of Falls City has prided ourselves in serving and being a part of the Falls City community and surrounding area since 1882. Our main bank is located at 1701 Stone Street and our drive-in is located at 1501 Stone Street. To meet the needs of our customers, we have convenient business hours and a night depository area with a 24-hour accessible ATM machine at our main bank location.
F&M Bank offers a wide range of accounts to accommodate every type of need. We have various checking, savings and money market accounts, certificates of deposit, individual retirement accounts and health savings accounts. We also offer the most up-to-date technology to make banking more convenient, including free online banking services, debit and ATM cards a nd electronic monthly statements delivered to your inbox.
For those in need of a loan, we provide many different options. We have agricultural and commercial loans, vehicle and personal loans, home improvement loans and a wide array of residential real estate loans to meet every need and situation. Our loan officers are always willing to sit down and talk with customers and help them in any way possible.
The bank also offers a Heritage Club for customers who have reached the age of 55. This group has bi-monthly meetings where members can gather and enjoy an afternoon socializing and playing games and each member receives a bi-monthly newsletter. Heritage Club members also get discounts with us for safe deposit box rental, copies and laminations. Members are entitled to cashier's checks, money orders, traveler's checks and Heritage Club-style checks without any additional fees.
We are committed to providing quality financial services to the Falls City community and surrounding areas. Please visit our website complete listing of our products and services. If you find you have any questions, please contact us at 402.245.2491. Our friendly staff will make you feel right at home!
F&M Bank is also committed to the economic growth and development of Falls City and is an active member investor in Falls City Economic Development and Growth Enterprise (EDGE). Kevin Malone, President of the Bank, served as the president of EDGE from 2007 to 2009 and currently serves on the EDGE Board of Directors.