Falls City Industrial Park
Available Industrial Sites
Prime industrial sites are available in the Falls City Industrial Park, situated at the U.S. Highways 73 and 159 and served by the BNSF and Union Pacific railroads.  The park was completely upgraded in 1999 with new utilities, public access and telecommunications services. Current occupants include: Airlanco, Herzog, Vantec, Inc., Kearney Welding, FAST Global Solutions, Falls City Foods, and Consolidated Grain and Barge.
For detailed information on available sites, click here.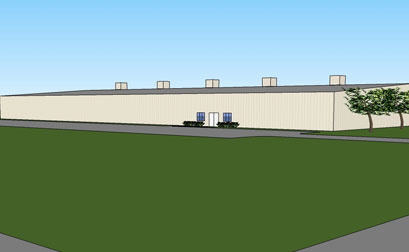 The conceptual design for the 10.1 acre expansion of the park has been completed and mass grading of the site has been completed.  The site plan is designed to be flexible and includes development of a 40,000 sq. ft. to 80,000 sq. ft. expandable building.  There is ample space for larger building and future growth. The mass grading and utility design allow for the potential of a green area and retention pond in order to meet LEED certification requirements. For additional conceptual designs of the park expansion and building, click here.
Boundless industrial and distribution possibilities for our 1,000-acre site offering Union Pacific Railroad rail service and 90-minute access to Kansas City, MO, Topeka, KS, Lincoln, NE and Omaha, NE. Choose Falls City Nebraska's super site, located in southeast Nebraska, and watch your company grow and prosper!
For more information on these development opportunities and confidential site location assistance, please contact us.