Falls City EDGE Appoints Board of Directors & Committee Members
Wednesday, March 08, 2023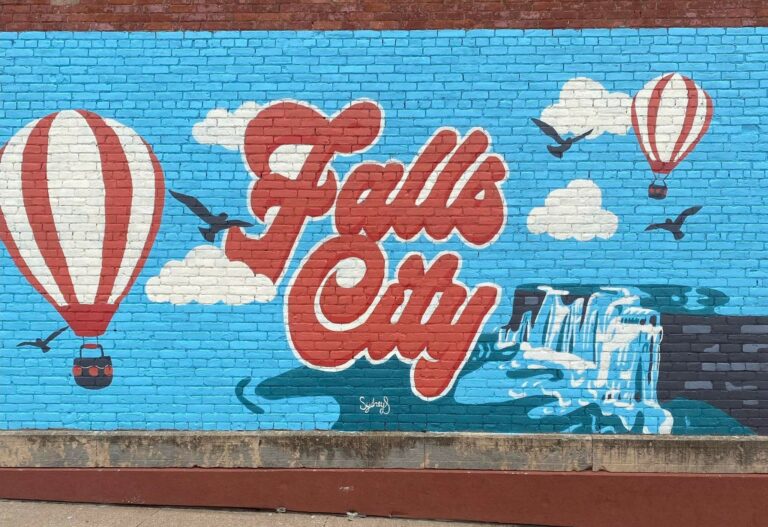 At the Falls City EDGE Annual Board Meeting in January, Kevin Malone was elected President of EDGE. Kevin is the Vice President of Frontier Bank in Falls City, Nebraska. "Kevin's experience in the banking industry and as past President of EDGE will be valuable as we continue our mission to improve the business conditions in Richardson County," said Lucas Froeschl, Executive Director of EDGE.
EDGE Executive Board
Joining Kevin Malone on the Executive Committee are Vice-Presidents Rod Rowland, F&M Bank President, Ray Joy, Vice President of Southeast Communications, Steve Kottich, Miller Monroe Company consultant, and Bart Keller, Farm & City Supply owner. Lucas Froeschl was appointed Secretary and Treasurer. "Our Executive Committee is composed of people who are dedicated to the economic growth of Falls City and have had years of experience doing business here. They bring their own unique perspective and solutions, which will help EDGE to provide focused support to companies and investors looking to do business in Falls City," said Froeschl.
Falls City EDGE Visionary Directors
During EDGE's Board Meeting on 2/16/23, Visionary Director appointments were approved. Each Visionary member-investor is bestowed an automatic seat on the board. These investors and appointed directors include:
Amalia Morehead, Marc Morehead
Community Medical Center, Ryan Larsen
Consolidated Grain and Barge, Co., Joe Rector
Dorr & Clark Funeral Home, Brian Daake
Ed and Sandra Hartman, Ed Hartman
F&M Bank, Rod Rowland
Farm & City Supply, Bart Keller
Frontier Bank, Kevin Malone
Southeast Nebraska Communications, Ray Joy
Other director appointments include the Mayor of Falls City, Richardson County Commissioner, City Council Representative, three At-Large directors elected at the Annual Board Meeting to a three-year term, and three General Directors elected by Members at the Annual Banquet to a three-year term. Ex-Officio representatives are Chamber of Commerce Director, City Administrator, and Falls City Public Schools Superintendent.
Additional Directors
Mayor Mark Harkendorff
Derrick Leyden, City Council President
David Sickel, County Commissioner
Steve Severin, At-Large
Steve Kottich, At-Large
Deb Lewis, At-Large
Mitch Merz, General
Tim Heckenlively, General (Superintendent)
Adam Morris, General
Ex-Officios
Anthony Nussbaum, City Administrator
Amber Holle, Chamber Director
EDGE Committees
There are additional ways to serve on the EDGE Board and to make an impact on the future of Falls City. This includes serving on a committee or as a Committee Chairperson.
Committee Chairpersons include Mitch Merz for Marketing & Sales, Ray Joy for Product Development & Public Policy, and Marc Morehead for Investor & Community Relations.
Two new committee members were appointed by President Malone: Kelly Bletscher joined Marketing and Sales and Samantha Scheitel joined Product Development and Public Policy.
Marketing and Sales – Mitch Merz, Chairperson
Kelly Bletscher, Brian Daake, Don Ferguson, Jerry Duerfeldt, Kevin Malone, Mitch Merz, Steve Kottich, Steve Severin
Product Development and Public Policy – Ray Joy, Chairperson
Samantha Scheitel, Beth Sickel, Chris Halbert, John Caverzagie, Merle Veigel, Ray Joy, Ryan Larsen, Tim Heckenlively
Investor and Community Relations – Marc Morehead, Chairperson
Bart Keller, Denise Daake, Joleen Stoller, Marc Morehead, Sarah Morris
Join EDGE to Advance the Falls City Economy
Falls City residents and business people benefit from the community's economic growth. More jobs mean more residents and more residents create additional jobs in other industries. The same applies to attracting capital investment. But business, workforce, and investment attraction don't happen by accident. It requires purposeful and focused effort by EDGE, our board and investors. We invite you to become one of them.
Please consider this an invitation to join our organization and annual banquet each January. Below are membership investment levels:
Visionary: $5,000+
Champion: $2,500 to $4,999
Catalyst: $1,000 to $2,499
Advocate: $500 to $999
Supporter: $100 to $499 (individuals/nonprofits)
"As we progress through 2023, we are grateful for the City of Falls City, RIchardson County, and private investors who generously support Falls City EDGE. We are always open to new members, volunteers, ideas, projects, goals, and strategies. We plan to build on our successes, create momentum with new achievements, and work together in support of economic development efforts," said Froeschl. "We appreciate your consideration and invite you to contact us with any questions."